AutoCAD Electrical Symbols Library Preview
AutoCAD Electrical Symbols Library Preview
The ArchBlocks AutoCAD Electrical Library has electrical symbols for designing Lighting Plans and Electrical Plans that are required for CAD construction documents. You will also find CAD Blocks for Reflected Ceiling Plans and a basic Lighting Schedule in AutoCAD .DWG format to help you get started.
Scroll down to see a complete preview of all the Electrical CAD blocks included in this library.
Find the following AutoCAD blocks in this library:
Lighting and Exhaust Fans Blocks
ArchBlocks AutoCAD Lighting and Exhaust Blocks include the following:
Wall Sconce
Wall Mounted Light Fixture
Suspended Light Fixture

Surface Mounted Light Fixture
Exhaust Fan
Exhaust Fan and Light Combo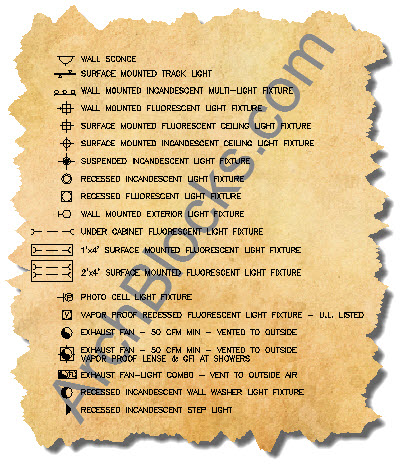 Electrical Switches Blocks
ArchBlocks AutoCAD Switches Blocks include the following:
Single Switches
3 Way Switches
Dimmer Switches
Timed Switches

Weather Proof Switches
Master Switches
Low Voltage Switches
Ceiling Pull Switches


Outlets Blocks
ArchBlocks AutoCAD Outlet Blocks include the following:
Duplex Outlet
Fourplex Outlet
220 Outlet
Ground Fault Duplex Outlet

ARC Fault Duplex Outlet
Floor Mounted Duplex Outlet
Blanked Outlet
Junction Box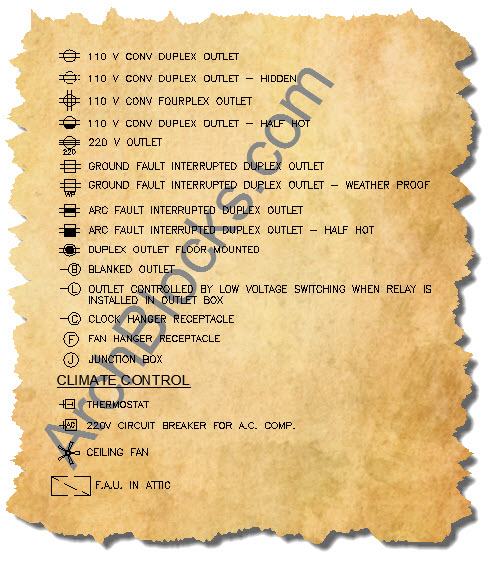 Climate Control Blocks
ArchBlocks AutoCAD Climate Control Blocks include the following:
Thermostat
A.C. Circuit Breaker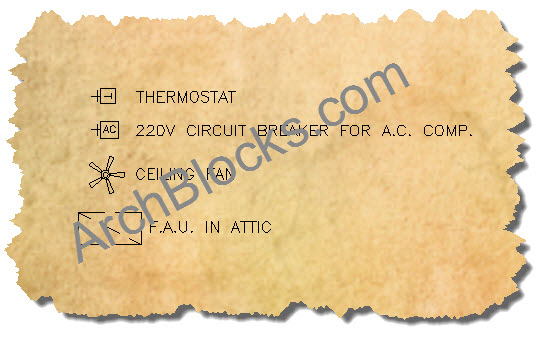 Basic Electric Symbol Blocks
ArchBlocks AutoCAD Basic Electric Blocks include the following:
Door Chimes
Smoke Detector
Telephone Jack
Telephone Panel
Electrical Panel

Cable Panel
Television Jack
Security System
Low Voltage Transformer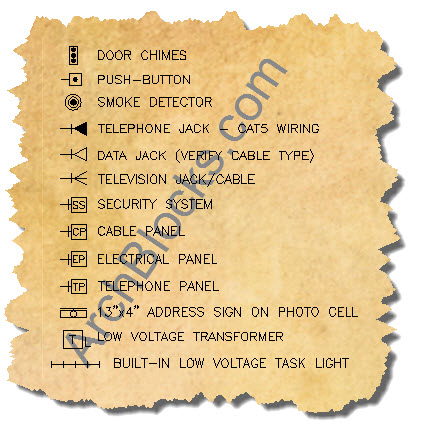 Gas Blocks
ArchBlocks AutoCAD Gas Blocks include the following:
Fuel Gas
Fireplace Key/Switch

Water AutoCAD Blocks
ArchBlocks AutoCAD Water Blocks include the following:
Hose Bib
Hose Bib with Shut Off

Cold Water Stub for Ice Maker

Reflected Ceiling Plan Blocks
CAD Reflected Ceiling Plan Blocks include the following:
Fluorescent Light Fixture

Recessed Light Fixture

Return Air Grill

Supply Air Grill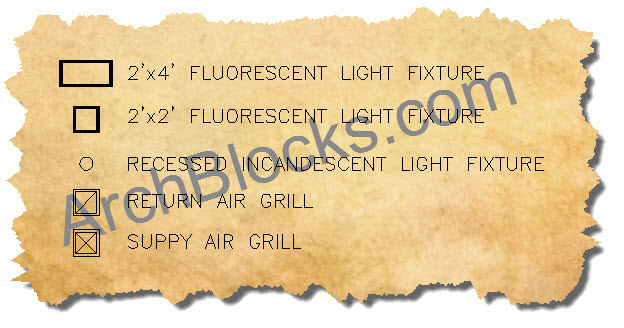 Lighting Schedule Blocks
AutoCAD Lighting Schedule Blocks include the following: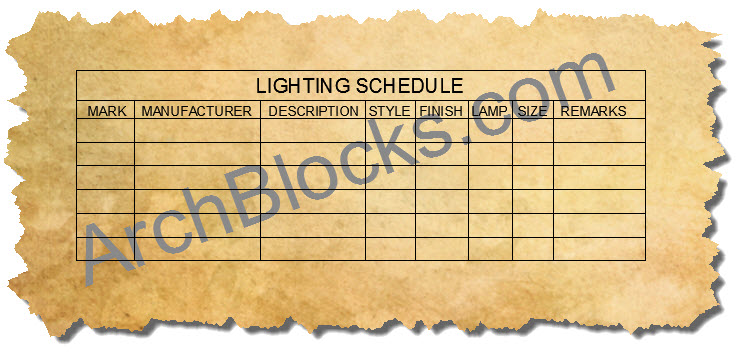 Introduction video on how the Electrical Symbols Library works:

Over 70 AutoCAD blocks and CAD symbols included!

To return to the Electrical Library products page click below: