AutoCAD Interior Design Accessories Previews
AutoCAD Interior Design Accessories Previews
This CAD library of interior design accessories provides you with a large assortment of interior decorating CAD symbols to add detail and style to your interior elevation drawings. These symbols are drawn real world size so they can be inserted directly into your drawings very quickly with no editing.
If you want to edit any of the symbols you can use AutoCAD's Explode command then make any changes that you want, quick and easy. Please send me an email if you have any questions.
Below are preview images that show ALL the interior design CAD symbols that come with this library;
There are CAD plants, CAD statues, CAD symbols of book ends, and flower vases that can add great detail to your project drawings!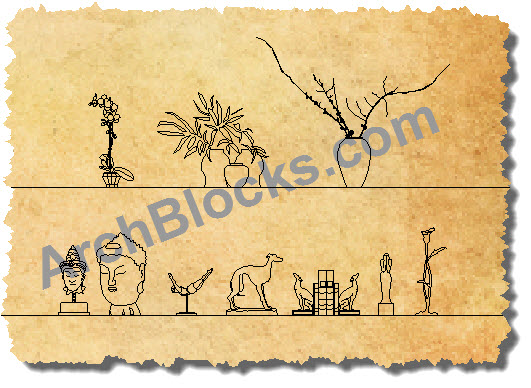 AutoCAD symbols of tassels, antlers, a globe, weather vane, and even a CAD block for a Japanese kimono!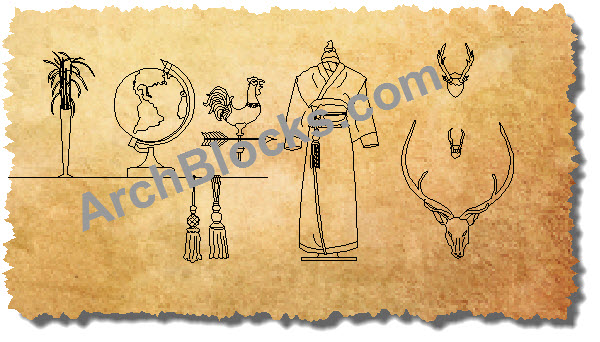 Included are a very nice set of wall sconce shelves, a CAD symbol of a guitar, and violin, a half nautilus sea shell. Where else will you find a CAD block of a birdcage, but on ArchBlocks.com!!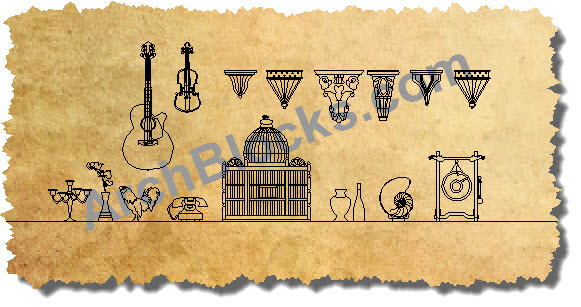 This library is available to download NOW!
To purchase and return to the Accessories product page, just click on the arrow below;