AutoCAD Miscellaneous Library Preview
AutoCAD Miscellaneous Library Preview
Miscellaneous CAD Blocks Library
Previews
The ArchBlocks AutoCAD Miscellaneous Library includes architectural CAD symbols for designing the fine details of the interiors of your CAD drawings such as home accessories, plants and fireplace CAD Symbols, CAD people, CAD cars and much more. Find the following AutoCAD blocks in this library:
Accessories CAD Blocks
ArchBlocks AutoCAD Accessories Blocks include the following:


Wall Hangings
AutoCAD Pianos
CAD Plants




CAD Vases
CAD Guitars CAD Antlers
AutoCAD Accessories Symbols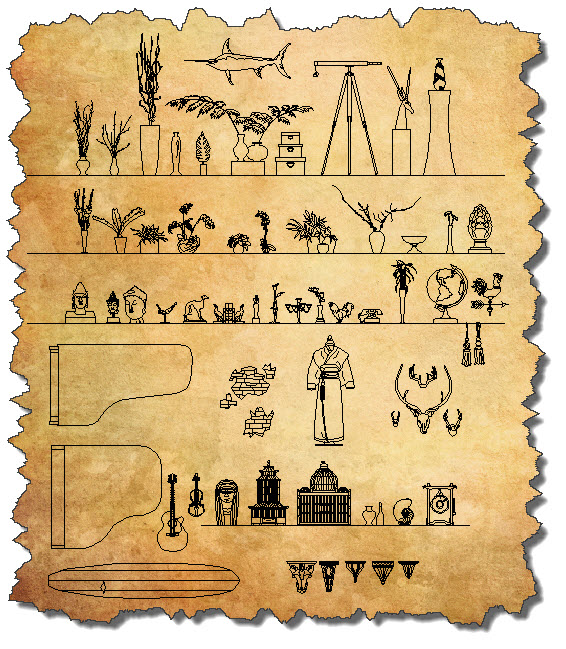 AutoCAD Car Blocks
ArchBlocks AutoCAD Car Blocks include the following:
Auto CAD Car Drawings
Side View Auto CAD Car
SUV's

Top View Auto CAD Car
Trucks
CAD Blocks Autos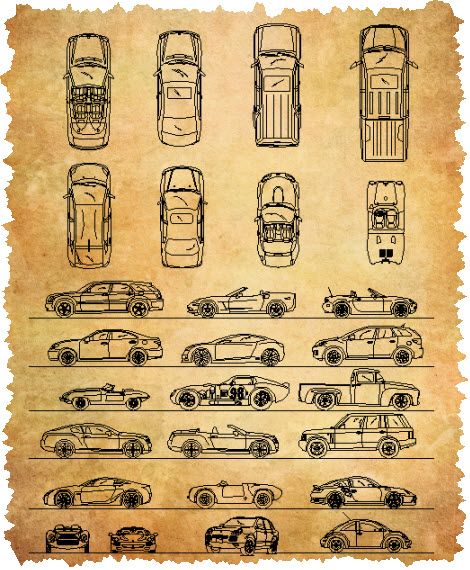 AutoCAD Tile Medallions
ArchBlocks AutoCAD Tile Medallions Blocks include unique Auto CAD Art in tile medallion shapes to provide
detail to your AutoCAD drawing.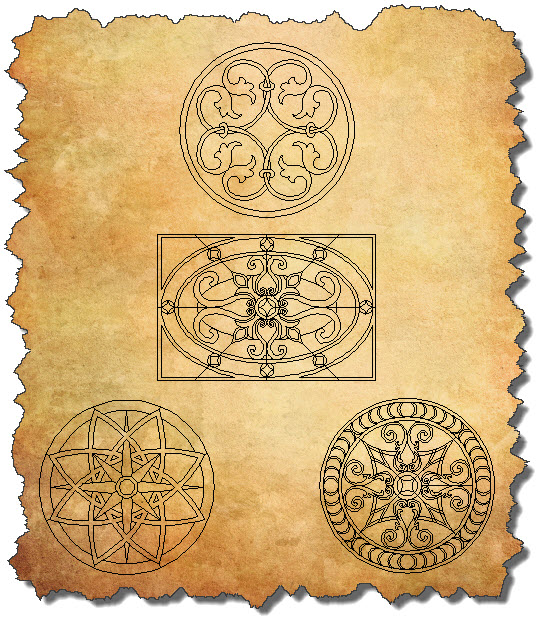 AutoCAD Sculptures
ArchBlocks AutoCAD Statue Blocks include the following:
Standing CAD Statues
Table Top Sculptures




Small Sculptures
Large Sculptures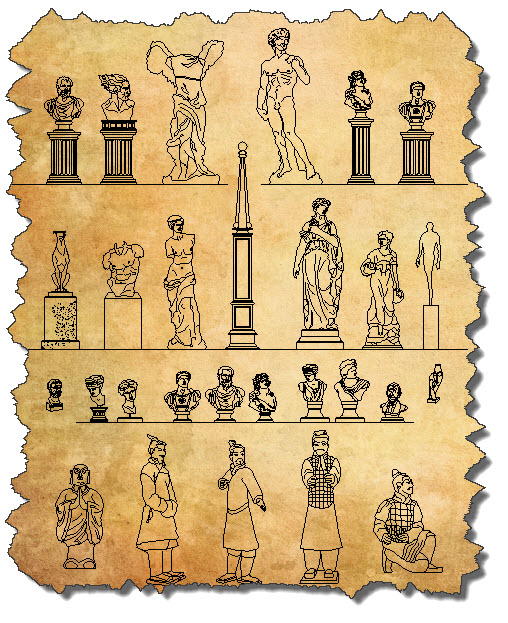 AutoCAD Pots and Vases
ArchBlocks AutoCAD Pots and Vases Blocks include the following:
Table Vases
Large Floor Pots
CAD Pots




Shelf Vases
Small Pots
CAD Vases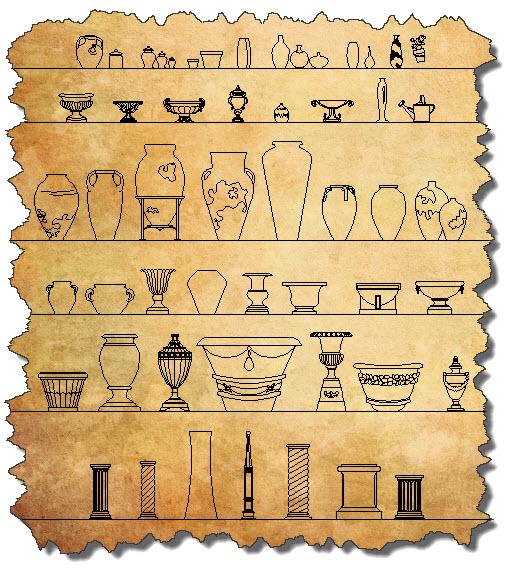 AutoCAD Tree Symbols and Auto CAD Landscaping
ArchBlocks AutoCAD Plant Symbols and Auto CAD Landscaping Blocks include the following:
CAD Hanging Plants
AutoCAD Plant Stands
Plant Symbols in Plan View




CAD Plant Symbols
Palms
Cad Plants in Elevation View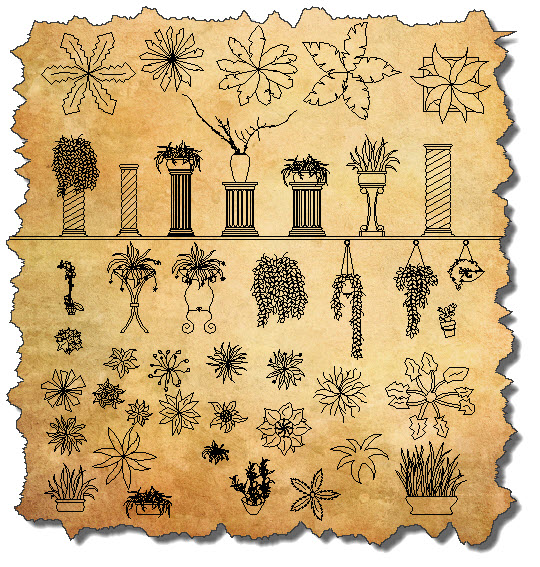 AutoCAD Block People

ArchBlocks AutoCAD Block People include the following:
CAD People
Men in Elevation View
Women Blocks
Children Symbols




CAD People in Plan View
Mother and Daughter Blocks
Father and Son CAD Blocks
Business CAD People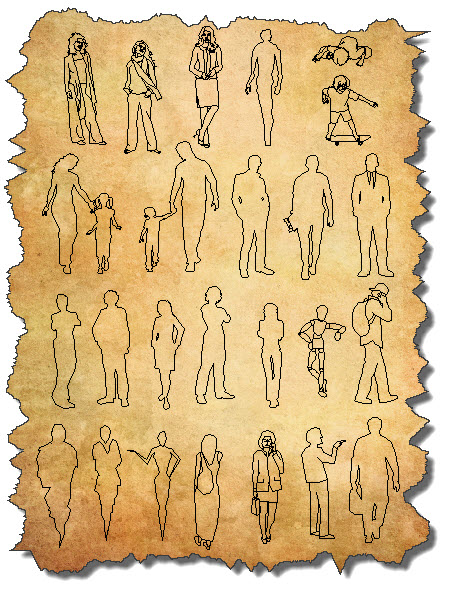 AutoCAD Mirrors

ArchBlocks AutoCAD Mirrors include the following:
Designer Mirrors
Oval Mirrors
AutoCAD Mirror Symbols




Square Mirrors
CAD Wall Mirror Blocks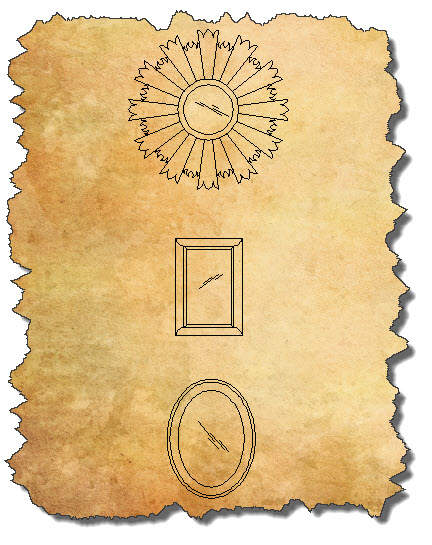 AutoCAD ADA Grab Bars

ArchBlocks AutoCAD Grab Bars include the following:
ADA Handicap Access Grab Bars and Hand Rails
CAD ADA Grab Bars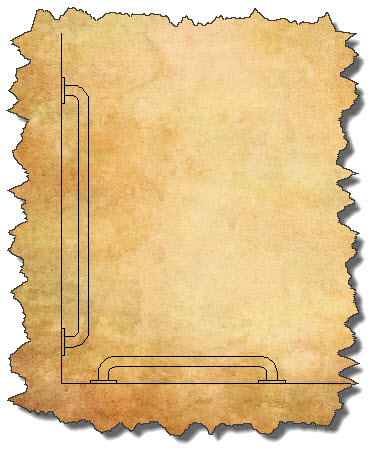 AutoCAD Fireplaces

ArchBlocks AutoCAD Fireplace blocks include the following:
CAD Custom Fireplaces
Brick Fireplaces
CAD Fireplaces in Elevation View




Designer Fireplaces
Wooden Fireplaces
AutoCAD Block Fireplaces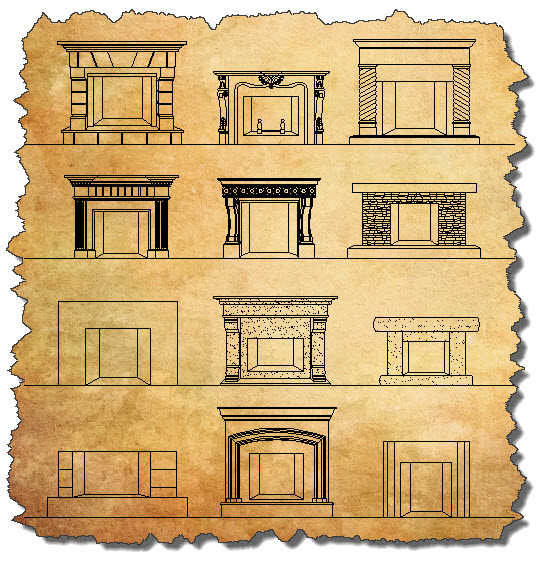 AutoCAD Electronics

ArchBlocks AutoCAD Home CAD Blocks Electronics include the following:
Blocks of Computer Moniters
Computer Keyboard & Mouse
CAD Symbols Home Electronics




Large Stereo System
Small Stereo System
AutoCAD Electronic Symbols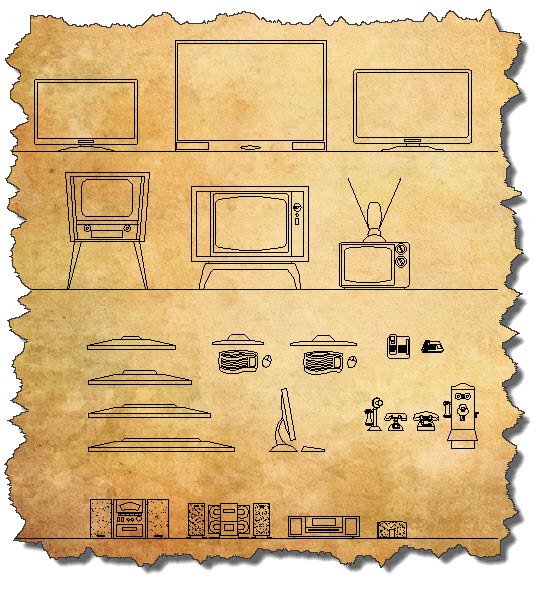 AutoCAD Tile Vignettes

These CAD tile patterns are blocks not hatch patterns. ArchBlocks AutoCAD Tile Vignettes include the following:
Square Tile Vignettes
CAD Tile Patterns
CAD Versailles Tile pattern




Mosaic Tile Vignettes
AutoCAD Diaganol Tile Pattern
CAD Herringbone Tile Pattern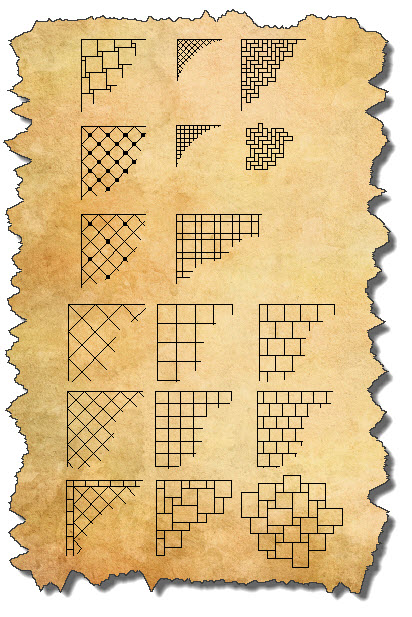 The Miscellaneous Library is available to download immediately - you can get it NOW!
Click below to return to the Miscellaneous Library product page;