CAD Blocks Download Instructions
ArchBlocks CAD Blocks Download Instructions
STEP #1:
Once you have completed the payment information, and your payment has been accepted, you will see your receipt page as shown below. You have two options to download your CAD blocks from here. You can use the download link provided in your receipt as shown by the top red arrow, or you will receive an email with a download link included.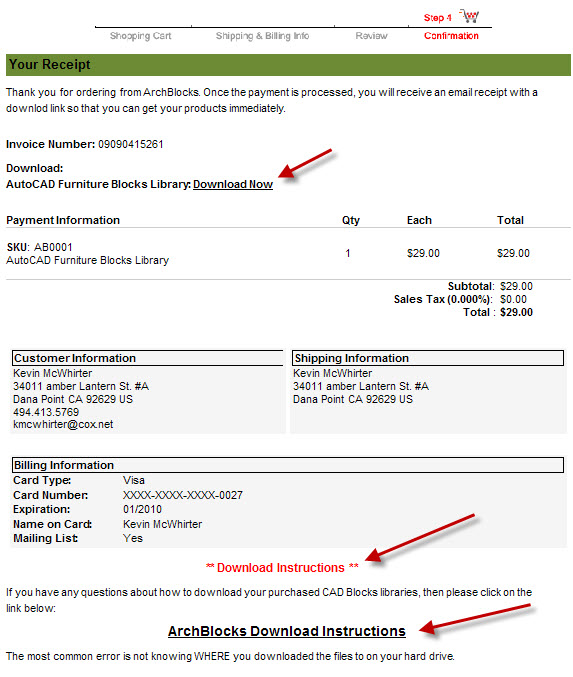 STEP #2:
If you decide to use the link sent to your email address, your email note with the link will look like this: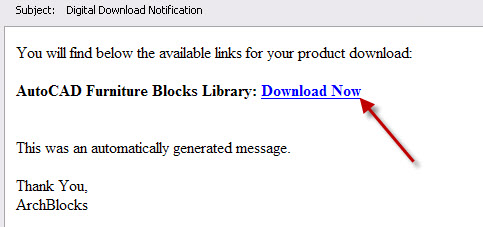 Just pick on the Download Now link, and the download process will begin.
STEP #3:
The File Download dialog box will appear asking if you want to Open or Save the zip file. My recommendation is to Save the zip file to your hard drive. That way you can use it as a backup file for the ArchBlocks CAD Block Libraries, should you ever need it.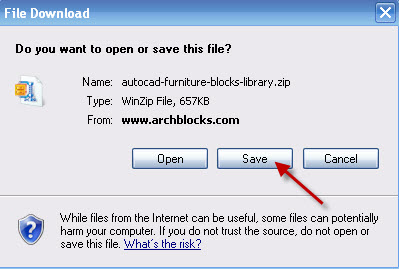 Pick Save.
STEP #4:
This next step is IMPORTANT!! You need to select and know WHERE, you're saving the zip file to on your hard drive. So have a folder in mind, or create a new folder to save the zip file into.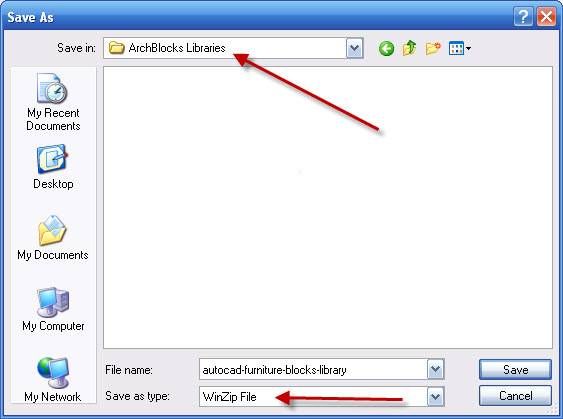 STEP #5:
The download process is now done. Once you have saved the zip file for your ArchBlocks AutoCAD symbols into the folder of your choice, you now need to unzip it. All the ArchBlocks CAD block libraries have been zipped (compressed) using Winzip compression software. This makes the files smaller for quicker downloads on the internet. Just double-click on the zip file and it will start to unzip.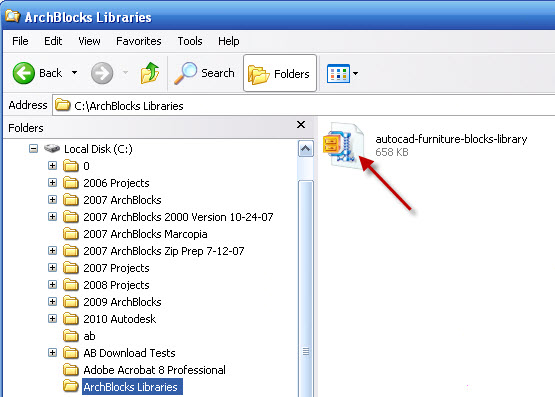 STEP #6:
If you have WinZip on your computer, a dialog like the one below will appear. The important thing here is to BE AWARE of WHERE you unzip your CAD block libraries to! The two arrows are showing the drive and folder of where the unzip CAD Blocks will be saved to. At this step, you have to pick where you want the libraries saved to. (the drive and folder shown below is only an example).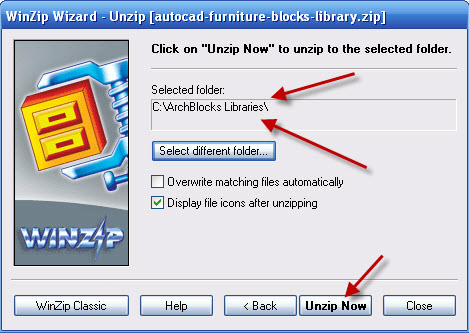 After you have unzipped the CAD Blocks to the folder, you can now access the blocks with Design Center in AutoCAD. You can also open the .DWG files with AutoCAD to look at the blocks if you want to.

If you have any questions please send me a note at Contact Us.
Thank you.