Free Graph Paper Free Furniture Templates
Free Furniture Space Planning Templates
and
1/4"=1'-0" Scaled Free Graph Paper
Free to download immediately! If you need to design a furniture spaceplan using 1/4" graph paper, this is a great design tool to help you get the job done quickly! Included in this free download is 1 sheet of 1/4"=1'-0" scaled free furniture templates, and 1 sheet of 1/4"=1'-0" free graph paper with a project titleblock. The free furniture templates and free graph paper will download as a single .PDF file with 2 pages. You can then print both 8.5"x11" size pages on your printer at home. Preview both pages below.
Enter your email and submit the form below to download the Free Furniture Templates and Free Graph Paper now!
We respect your privacy, please see our privacy policy page ; https://www.archblocks.com/privacy.html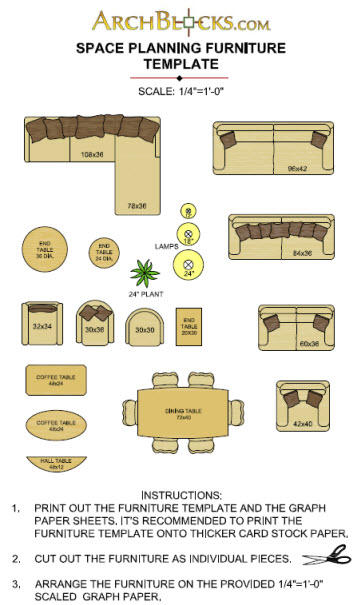 Free Graph Paper for Furniture Space Plan Designs.
8.5"x11" sheet size

This size free graph paper sheet will give a 1/4"=1'-0" design area of 30'x37'
Each 1/4" square on the graph paper equals 1'-0"
Tape 2 or more sheets together if you need a larger area.
Draw in your floorplan walls, windows, and doors and you're ready to go!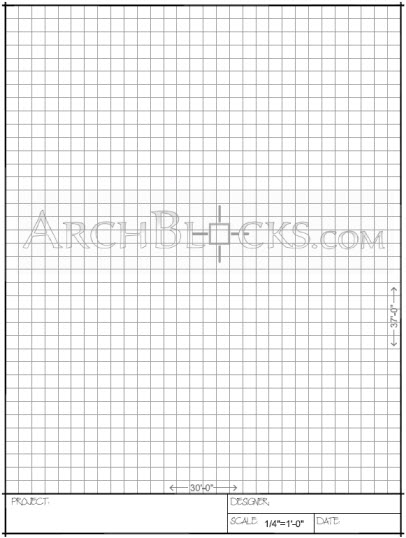 If you have any questions, please send me a note at:
See more CAD furniture blocks and CAD furniture symbols at www.ArchBlocks.com