Check out this great white paper from the editors at Cadalyst.
Get the advice you need for your hardware while keeping costs low.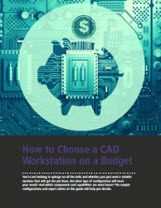 You're not looking to splurge on all the bells and whistles; you just need a reliable and affordable workstation that will get the job done. But what type of configuration will meet your needs? And which components and capabilities are must-haves? The sample configurations and expert advice in this guide will help you decide.
Download this white paper today!
Discounts for Cadalyst readers are available.
From the Editors of Cadalyst
Regards, Kevin